sea.indah.link
Throughout many summer nights, while island residents are asleep at home, nature's magic is occurring on the beach.
Starting in May, sea turtles begin to crawl onto the moonlit shore and select a spot in the dunes to lay their eggs. By the time the sun has risen over the beach, the turtles are long gone. They've left behind nothing more than a few tracks and a nest containing the future generation of their species.
On St. Simons, there's a small group of volunteers who are often the first to discover these newly-laid nests each morning. This team patrols the island's beaches daily during nesting season, to monitor and protect the nesting process. They arrive before sunrise and walk the beaches, looking for tracks, marking nests they find and answering beach visitors' questions about the sea turtle nesting process.
The St. Simons Sea Turtle Project team is made up of 15 trained and permitted volunteers who bring a wide variety of conservation experience to the table and whose passion for the work is evident to those who interact with the group.
"Most of our volunteers have experience not only on this project but several have managed programs on other nesting beaches," said Catherine Ridley, coordinator for SSI Sea Turtle Project.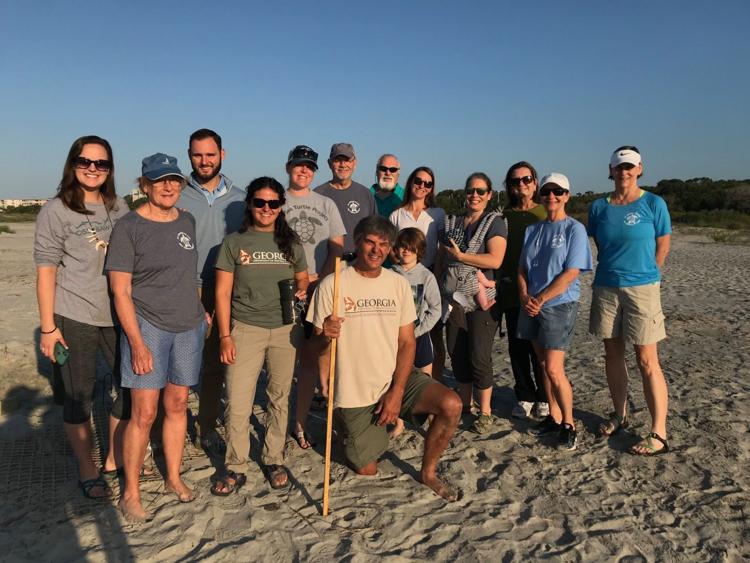 At the beginning of the season, the volunteers are looking for turtle nests and tracks leading up to them, and later they're looking for hatchling tracks, Ridley said.
"Our volunteers walk the beach, every single stretch of beach, every morning starting on about May 1 and going through the entire season," she said.
Every volunteer with the project carries a special passion for sharing their knowledge with the public, said team member Stephanie Knox, who became involved with the project three years ago, after working with sea turtles on Little St. Simons.
"The volunteer group is a wonderful group of people who are all very passionate about conservation and sea turtles," said Knox, who has a degree in wildlife conservation and management and works currently for the St. Simons Land Trust as a manager for Cannon's Point.
St. Simons has reported so far one nest hatching this season. The nest hatched July 9 after 63 days of incubation.
Three loggerhead nests have been reported on the island so far this year.
Statewide, 2,692 loggerhead nests have been reported as of Sunday. Jekyll Island reports 135 nests, and Sea Island reports 83.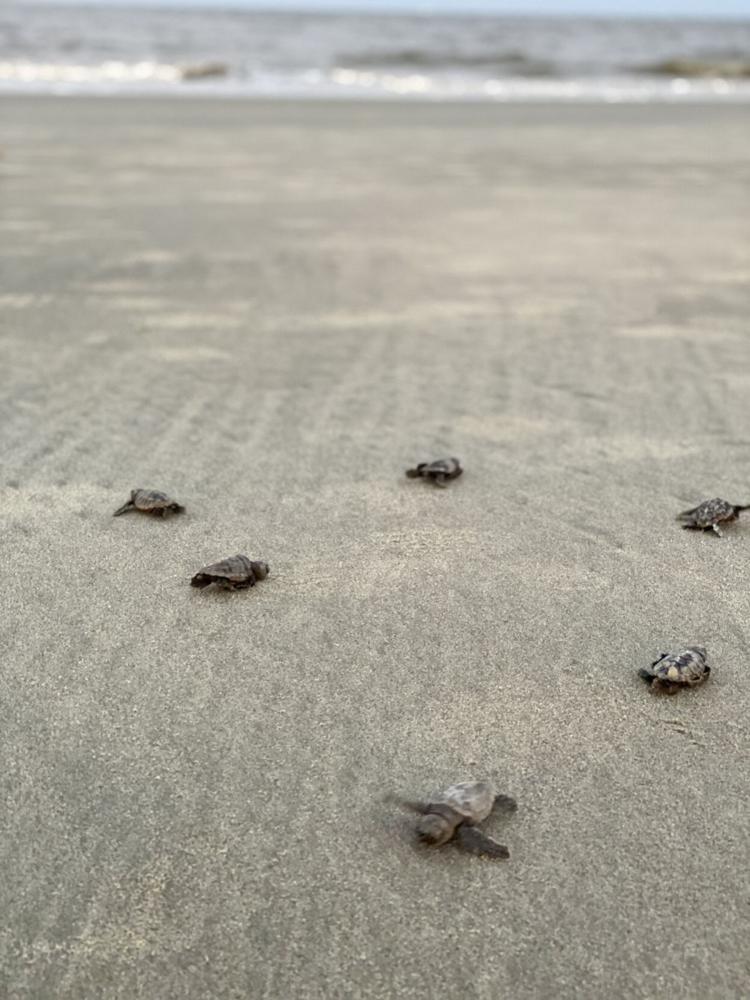 St. Simons may not have as many nests as the other islands, Ridley said, but having an experienced team of volunteers helps the island collect reliable, accurate data that is essential for conservation management.
"Like with all of the islands, DNR relies on the nesting and hatching information we record to track the success of the population," Ridley said. "Hopefully, over time, nesting on St. Simons will increase, and when it does, we'll have a reliable and accurate data set to measure its growth with confidence."
As hatchlings begin to emerge, Ridley said it's important to remind beach visitors and local residents to keep the beaches dark at night, to avoid interfering with hatchlings' ability to navigate their way out of the nest and to the ocean.
"On developed beaches, lights and people get in the way," Ridley said. "Now more than ever, especially with the first nest hatching … it's so critical that beachgoers are on their best turtle-friendly behavior."
Those staying in hotels or rental homes are asked to turn off lights and night and make sure interior lights that shine on the beach are shaded.
Every summer, the St. Simons team documents disoriented hatchlings who don't make it to the ocean because of artificial lighting.
"Those are healthy turtles we lose entirely, and it's entirely preventable," Ridley said.
Educating the public is an important aspect of the team's work.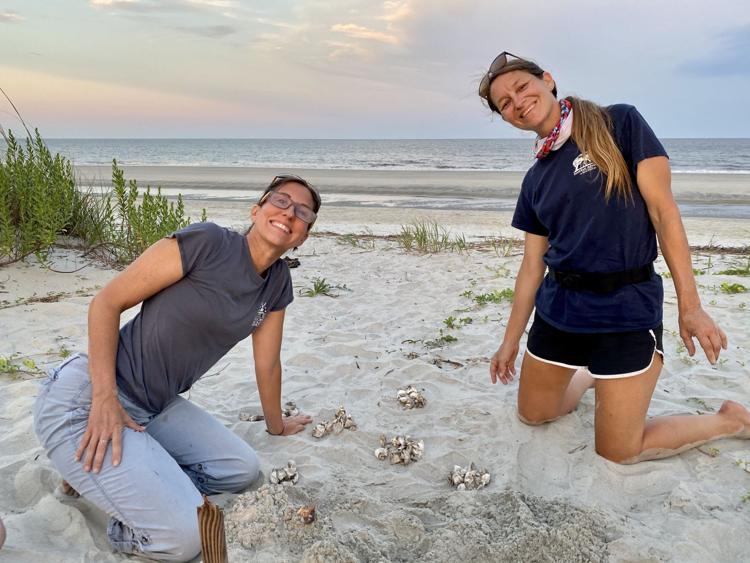 Cindy Dennard, a volunteer who for the past three years has walked the beaches with her young son, said she enjoys teaching him the importance of citizen science.
"Being on the SSI Turtle Team is perfect because we can contribute our share of time and effort but still have a busy life otherwise," said Dennard, who co-owns SouthEast Adventure Outfitter on St. Simons. "The team is thoughtful, sweet and cohesive mostly because Catherine is the glue holding us together."
The time spent walking on the beach creates the opportunity for daily discoveries, Dennard said.
"You never know what you might see even if it's not turtles," she said. "And it helps me feel like a part of the larger ecological community, and have a direct impact on my local community."
Sea turtles are some of the oldest animals around, Knox said, as they've been on this island well before anyone living here now.
Sea turtles are the ultimate local, Ridley said, and their babies are entrusted to our care.
"These mothers, these sea turtles, have been nesting on our beach for generations — certainly a lot longer than any of us humans can claim to be here," she said. "... They're depending on us to keep our end of the bargain and to keep them safe."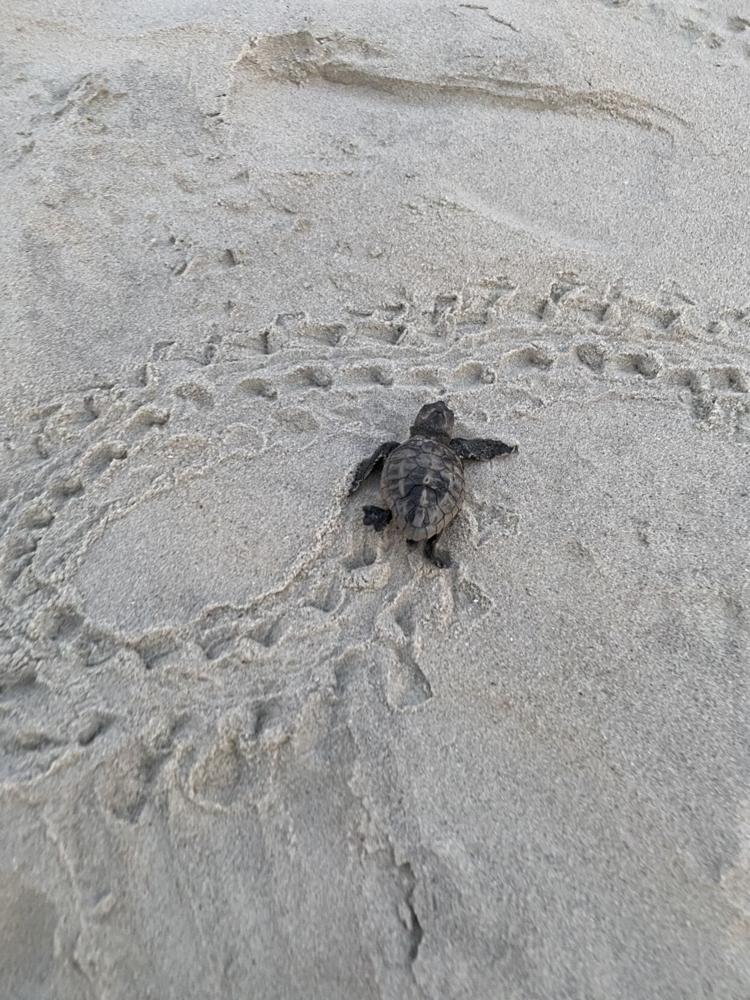 Dennard encouraged beachgoers to help protect the natural world in any way they can.
"Just by being conscious of your impact and then being conscientious of your actions is a huge step," she said. "The Sea Turtle Project really lays out some simple steps that any person can do to have an impact on conservation. When my son doesn't want to get out of bed early in the morning to walk sometimes I just tell him it's his job and it's good to do things for other animals that need his help. It is always worthwhile once we get out there."
Those wishing to learn more about the St. Simons Sea Turtle Project are encouraged to follow the project at facebook.com/ SSITurtles.
The Link Lonk
July 27, 2020 at 11:00AM
https://ift.tt/30NE3K1
Dedicated volunteer team monitoring St. Simons sea turtle nesting - Brunswick News
https://ift.tt/2CoSmg4
Sea