sea.indah.link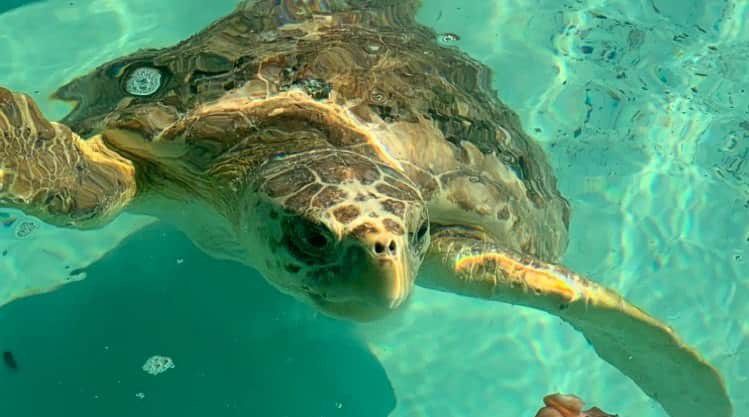 SOUTH PADRE ISLAND, Texas -- South Padre Island is home to the Kemp's ridley turtle, a turtle that's on the critically-endangered list.
---
What You Need To Know
Nonprofit working to keep sea turtles safe near Texas Gulf


COVID-19 has restricted visitors from visiting educational halls, tanks


Seasonal hatching that usually gathers thousands had to go virtual


Nonprofit asking for donations
---
A nonprofit is doing everything it can to keep them alive and existing. Sanjuana Zavala's fascination with marine life and the ocean keeps her coming back to work every day.
She's the marketing and PR manger for Sea Turtle, Inc.
"It really is a dream to work for such a wonderful organization and to be able to directly impact the environment with our causes," said Zavala.
But COVID-19 is making it different for the nonprofit--the rehab clinic is empty.
"They are minimizing time with their public so they come in and do what they need to do with the sea turtles after hours, either in the morning or afternoon," said Zavala.
Capacity limits mean fewer people are walking through the educational halls and turtle tanks.
"We do have a lot less visitors coming to our facility, which means we are not making the same amount of money that we would have had it been a normal summer," said Khrystyne Jamerson, education director for Sea Turtle, Inc.
But money is what this nonprofit depends on. Ironically, though, the ones really benefitting from the lack of visitors are the turtles themselves.
Watching the hatchlings release online was the only way to attend this summertime event that usually draws thousands to the Texas Gulf Coast.
"Nesting season starts in April and peaks in May," said Marina Devlin, conservation coordinator for Sea Turtle, Inc. "And those were the two months that we had a lot of the shelter-in-place laws put in our county."
Because of that, 85 sea turtle nests were protected and more than 4,000 Kemp's ridley hatchlings were released.
That's more than average--and don't forget Hurricane Hanna was in the mix.
"So after Hurricane Hanna hit, which was a category 1 hurricane, not a lot of damage happened this time," said Zavala. "We were pretty lucky."
Overall, Sea Turtle, Inc. closed for 65 days due to COVID-19.
"But we were gracious with our supporters that held on to us and wished us well during this pandemic," said Zavala.
This support is needed for these slow, hard-shelled creatures that need a little extra help to avoid extinction.
The Link Lonk
July 30, 2020 at 06:58PM
https://ift.tt/3jPmxxL
Sea Turtles Thriving During COVID-19 Pandemic - Spectrum News
https://ift.tt/2CoSmg4
Sea