sea.indah.link
EMERALD ISLE — If you see people messing with sea oats in the dunes along the Emerald Isle strand in early October, don't be alarmed, they're doing authorized work for next year's beach nourishment project.
Greg Rudolph, manager of the Carteret County Shore Protection Office, said Monday crews from Earthbalance, a Florida company, will harvest not only sea oat seeds but also bitter panicum and beach elder cuttings. The cuttings will be used to grow new plants that will be installed on dunes to be created in the 2021 nourishment project in extreme western, central and extreme eastern Emerald Isle.
The plants will help hold those new dunes in place, which is the reason it's illegal and punishable by a fine to remove sea oats from beaches in North Carolina and other coastal states.
"There will be no four-wheel drive vehicles, just a field crew that will strip the spikelets, or seed heads, by hand," Mr. Rudolph said Monday. "The stem stalks and the plants will be left behind without any damage.
"The spikelets will then be processed to yield the seeds, and the seeds will be used to generate the plantings for the (2021) project."
It takes quite a while to grow sea oats suitable for seed harvest for plants used in stabilizing dunes, Mr. Rudolph added.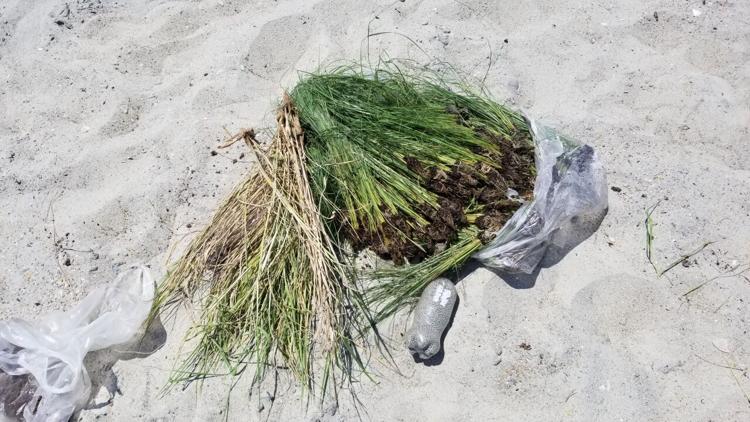 "It's takes about a year and a half, more or less, for new sea oat plantings to send up the stem with spikelets," he said. "For instance, the plants we planted in the 2019 (nourishment project) shot up stalks this year, and the plants we planted in 2020 are still too young."
There are plenty of mature sea oats in portions of Emerald Isle that have not experienced beach nourishment recently, so there are enough available to harvest seeds and start growing plants that will be put in next year.
The county's contract for the 2021 nourishment project stipulates that only native vegetation can be used for the dune planting, which takes place after nourishment work is complete. This year's planting effort took several months.
The county opened bids for the 2021 project, known as Phase III of the post-Hurricane Florence beach nourishment project, earlier this year and awarded the contract to the low bidder, Great Lakes Dredge and Dock Co., of Illinois, for $31,611,770. It calls for placement of about 2 million cubic yards of sand in Emerald Isle.
Earthbalance is a subcontractor working for Great Lakes.
The nourishment work will start early next year and must be finished April 30, 2021 because of federal law that protects sea turtles, which hit the beaches in late spring and early summer to put in nests that contain eggs that hatch in the fall.
Contact Brad Rich at 252-864-1532; email Brad@thenewstimes.com; or follow on Twitter @brichccnt.
The Link Lonk
September 29, 2020 at 11:00AM
https://ift.tt/3i71xjS
Company to harvest sea oats in Emerald Isle for new dunes - Carolinacoastonline
https://ift.tt/2CoSmg4
Sea