sea.indah.link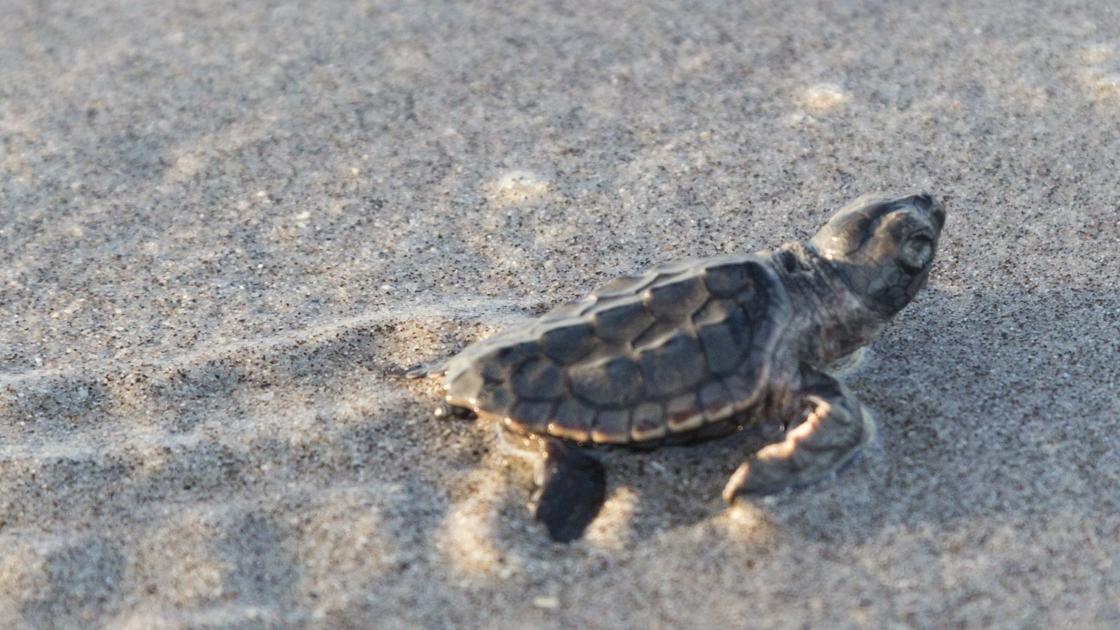 In a word, this year's sea turtle nesting has been "fantastic."
"Great numbers and few storms," said Zoe Bass who, along with Wilma Katz, is a state permit holder overseeing the Coastal Wildlife Club volunteer sea turtle patrols on Manasota Key.
Club patrols have documented 4,611 loggerhead nests, 152 green sea turtle and two Kemp's ridley nests on Manasota Key.
What's been especially surprising, Bass suggested, has been the number of nests for the rarer green sea turtles. Normally, greens nest every other year, and this season was supposed to be a slow year. Bass wondered if Manasota Key is seeing a "double high" year of green sea turtle nesting.
"The season is winding down," Bass said. Officially, the sea turtle nesting season extends from May 1 to Oct. 31.
HIGH SURF
The high surf — resulting from Tropical Storm Marco and Hurricane Laura churning up the Gulf — mostly washed over nests, rather than washing them out completely. Some turtle volunteers have removed the familiar orange-painted wooden stakes that came loose in recent days.
South of Stump Pass, on the bridgeless Knight and Don Pedro islands, Brenda Bossman, the state permit holder overseeing sea turtle patrols, said, "We have some inundation of nests."
Bossman explained how the water displaces the air interspersed between sand grains.
DISORIENTATIONS
Now is the time of turtle season when people need to be especially aware of baby turtles emerging from their nests and scrambling frantically toward the Gulf.
The hatchlings can be easily distracted, confused and disorientated by artificial light. Also, now is not a time to dig a hole on the beach and leave it. Holes can become death traps for the hatchlings.
"We've documented at least 225 disorientations this year," Mote Marine Laboratory spokeswoman Stephannie Kettle said. Mote oversees volunteer sea turtle nesting patrols from Venice north to Longboat Key.
As of Aug. 29, Mote patrols reported 3,632 loggerhead nests and 86 green sea turtle nests.
"The disorientations have occurred just about everywhere in our 35 miles of monitoring," she said, identifying Longboat Key, Lido Key and Venice as the worst spots. Siesta Key also has seen more than its share of hatching turtles confused by artificial lights and unable to find their way into the Gulf.
"In general, Casey Key, where it's private and mostly dark, has the (lowest) disorientation rate, with some documented on the southern end (of Casey Key)," Kettle said. "But for the most part, hatches (and nesting females) are the least disturbed by artificial lighting on Casey Key."
When hatchlings disorient, they are wasting their limited energy that should be used to "swim frenzy" out to the sargassum line, the place in the Gulf of Mexico where they typically find food and shelter. The more time spent on the beach or heading the wrong way, the more likely the baby turtles can be caught and eaten by birds, raccoons, armadillos, coyotes or other predators.
Mote offers the following tips to reduce artificial lighting and help prevent disorientations:
• Turn off outdoor lights that are visible on the beach from May through October. Both Sarasota and Charlotte counties enacted sea turtle protection ordinances requiring property owners to keep Gulf beaches dark.
• Close drapes after dark. Keep interior lights from shining onto the beach.
• Do not be on the beach at night. Do not use flashlights, cell phone lights or other lights on the beach at night.
• Fill in holes and remove obstructions to the Gulf, like beach chairs or barbecues.
As protected species, sea turtles, including hatchlings, are protected by state and federal laws. Call FWC's Wildlife Alert if you find hatchlings in the road, a parking lot, or headed away from the water: 888-404-FWCC (3922).
To learn more about sea turtles and nesting, visit myfwc.com or mote.org.
The Link Lonk
September 06, 2020 at 02:30AM
https://ift.tt/3bvX1JU
It's a 'fantastic' year ... for sea turtles | News - yoursun.com
https://ift.tt/2CoSmg4
Sea