sea.indah.link
MYRTLE BEACH — Friend. Athlete. Warrior. Great officer.
Those are just some of the words that describe Cpl. Michael Ambrosino, according to family, friends, fellow officers and members of the public safety community that gathered along the shore on Garden City Beach on Saturday to honor the life and legacy of Cpl. Michael Ambrosino, who died in August after a prolonged battle with COVID-19.
Beach Patrol officer Bill Conklin, who worked every day with Ambrosino, said that he was instrumental in getting him on the squad after being a security officer at St. James High School.
"He was a great influence on me and my career," Conklin said.
"A great human being."
A procession of law enforcement vehicles from across Horry County made an almost 2-mile trek on the sand from the Melody Lane beach access to the Holly Avenue beach access before partaking in a paddle-out ceremony.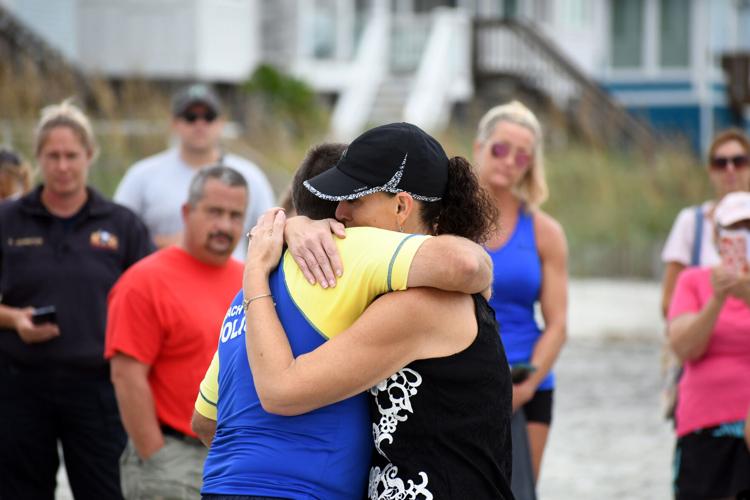 A paddle-out is a traditional Hawaiian tribute to the legacy and life of those who have passed away.
A floating memorial held in the ocean, co-workers of Ambrosino and members of the community formed a circle, said a few words while laying flower leis and then splashed the water.
The ceremony was explained by Kaleolani, a local from the big island of Hawaii, who then blew a conch shell to celebrate the life of Ambrosino.
"My understanding of Cpl. Michael is that he is a great man as many of our beach patrol people are and I pray that they all be safe," Kaleolani said. "His spirit lives on. We all celebrate his spirit today."
That spirit is something that Conklin knew well.
"He was persistent in doing the job the right way," Conklin said.
Horry County Beach Patrol Safety Director Duke Brown worked alongside Ambrosino and spoke to his love of protecting the Myrtle Beach shore.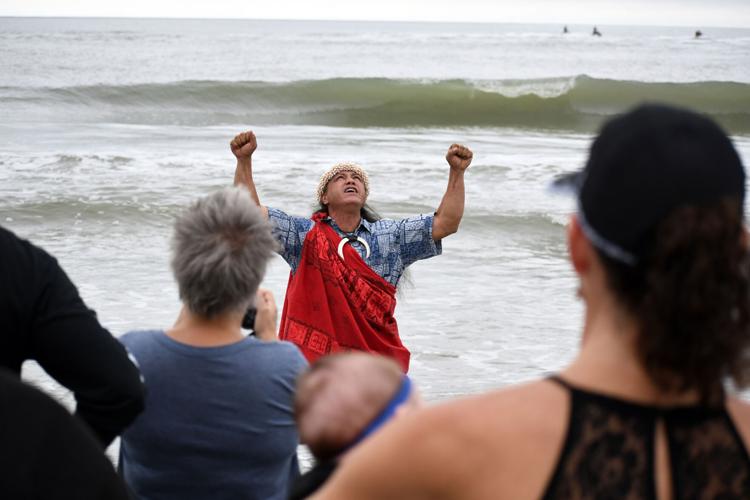 "He loved this beach," Brown said. "He always enjoyed, even when he was off-duty, being out on this beach. He surfed, he kayaked, he swam. He'd paddle-board, he scuba-dived, he even fished a lot. This beach was a part of his life.
"He always had a kind word for everyone down here. He had a kind heart. His spirit will always live on."
Ambrosino would have been amazed at Saturday's turnout, according to Brown, who said that people that had never even paddle-boarded participated in the ceremony.
"The connections Mike made is obvious today," Brown said. "He loved the area. He loved the people here. It's touched his family, and it's touched our department."
Ty Bowers, a lifeguard in Myrtle Beach, was one of the paddle-out participants and said it was special to be able to honor his life.
"I am really excited to be able to participate in it, and get out there for Mr. Ambrosino," Bowers said. "I didn't know him personally, but our agencies work together all the time, so I have run into him on calls in passing. It is just nice that we can get out together as a community and still show that even through all this, we can still band together to get this done for him."
A more than 32-year veteran of law enforcement, Cpl. Ambrosino spent seven of those with the Horry County Police Department.
He served on the South Precinct Patrol, Beach Patrol, Honor Guard and as a team leader for the SWAT Negotiations team.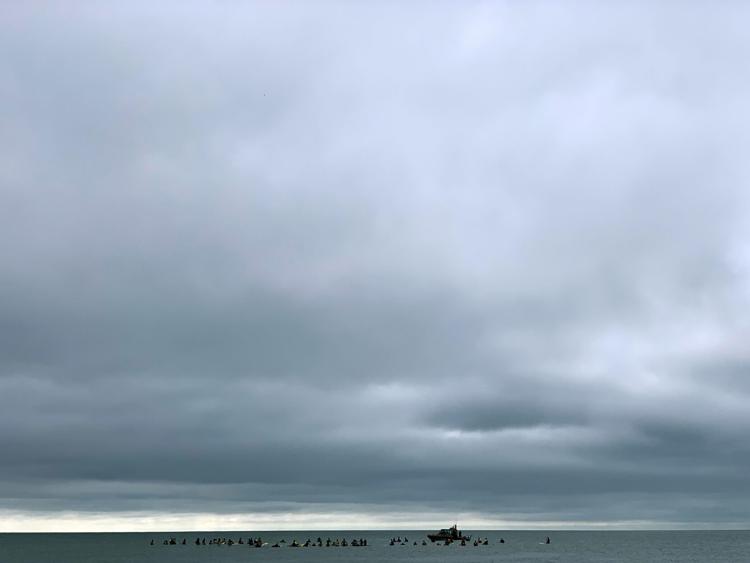 The Link Lonk
September 27, 2020 at 10:03PM
https://ift.tt/2HCkb6L
Love of the sea: Horry County Police remembers one of its own, Michael Ambrosino - Charleston Post Courier
https://ift.tt/2CoSmg4
Sea