sea.indah.link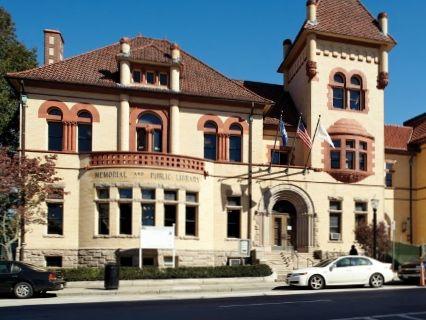 Have you seen the Netflix documentary called "My Octopus Teacher"? I was hesitant to watch but curiosity got the better of me, as it usually does. Despite the human in the film, Craig, being slightly melodramatic (no, Craig, you do not know what it feels like to have a limb ripped off by a shark), the star of the film is actually the octopus he "befriends." She fabulously camouflages herself with shells, she changes color, texture and shape to match her environment. She is magnificent!
Intrigued, I looked to see what else I could learn about the octopus. "Octopus! : The Most Mysterious Creature in the Sea" by Katherine Harmon Courage is full of fascinating tidbits, including facts like about two-thirds of an octopus' brain capacity is spread throughout its eight arms, meaning each one literally has a mind of its own! Octopuses have aced numerous intelligence tests, including opening childproof bottles, solving mazes, and even recognizing individual people. Incredible stuff!
An author I really like, Sy Montgomery, wrote the book, "The Soul of an Octopus: a Surprising Exploration Into the Wonder of Consciousness," which was a finalist for the National Book Award for nonfiction. Montgomery recounts her appreciation of an octopus she studies that eventually grows into love. "By turns funny, entertaining, touching, and profound, 'The Soul of an Octopus' reveals what octopuses can teach us about consciousness and the meeting of two very different minds." — Amazon
If you are more into the philosophical, try "Other Minds: The Octopus, the Sea, and the Deep Origins of Consciousness" by Peter Godfrey-Smith. If you're like me and watched Jacques Cousteau shows in the '70s, maybe his last book, "The Human, the Orchid, and the Octopus: Exploring and Conserving Our Natural World" will be of interest to you. We also have some of his other books containing wonderful photographs.
The ocean and the creatures that live beneath it are both intriguing and terrifying to me. To illustrate, I once went snorkeling and had a panic attack in about two feet of water. There is so much unknown in the deep of the oceans. My fear does not mean that I don't want to learn more about the creatures that live beneath it. There are so many books and documentaries about the sea, so if you find yourself interested, stop by the library to explore!
Top requested books
1. "Too Much and Never Enough" by Mary L. Trump
2. "The Vanishing Half" by Brit Bennett
3. "All the Devils are Here" by Louise Penny
4. "The Guest List" by Lucy Foley
5. "28 Summers" by Elin Hildebrand
6. "The Book of Two Ways" by Jodi Picoult
7. "Rage" by Bob Woodward
8. "Caste" by Isabel Wilkerson
9. "One by One" by Ruth Ware
10. "Anxious People" by Fredrik Backman
Top requested DVDs
1. "Outlander: Season 5"
2. "The Irishman"
3. "Star Trek. Picard. Season 1"
4. "The Crown Season 3"
5. "Killing Eve Season 3"
6. "Succession: The complete second season"
7. "The Good Fight Season 4"
8. "Irresistible"
9. "Line of Duty Series 5"
10. "Westworld Season 3"
This week
MONDAY — 9 a.m.-4 p.m., Crafternoon To-Go: Rag Wreath – We'll provide all the supplies you need (and directions) to add a Rag Wreath to your fall decor! Reserve your kit today, supplies are limited; 3-4 p.m., Teen Live Trivia with Kahoot – Join us for some trivia fun! We'll be meeting through Zoom and using Kahoot. Topics will vary. Contact skobos@westerlylibrary.org to register; 4-4:15 p.m., Kids Mindful Monday Video – Don't lose your cool! Check out some fun tips, tricks and activities to help keep calm and summer on! These short, pre-recorded videos are on our Westerly Library & Wilcox Park Youtube channel.
TUESDAY — 9 a.m.-4 p.m., Kids Take & Make Crafts – Grab a bag of supplies from the 'Kids' tote outside the Library front door. 1 per child, please; 10-11:15 a.m., Job Hunting Advice – Join a virtual sit-down with our library staff for advice on job hunting! Register online. Zoom link will be emailed before the meeting; 1-4 p.m., Community Resource Advocate – Our volunteer Community Resource Advocate is available via email to help connect you with local services/resources. Email her at advocate@westerlylibrary.org; 2-3 p.m., Virtual Film Club – New members are welcome! We will discuss three movies we selected last month and choose three to watch for our November meeting. Contact hbeldock@westerlylibrary.org for meeting details; 5:30-7:30 Virtual Knit and Crochet Club – We're still meeting virtually! Email cwalsh@westerlylibrary.org for details.
WEDNESDAY — 9:30-10 a.m., Essentrics/Classical Stretch Class – Join us for a 30 minute class in the park (appropriate for all ages and fitness levels). We recommend bringing a mat, towel, and water; 4-4:15 p.m., STEAM: Building Challenge – Check out this month's STEAM building challenge on our Westerly Library and Wilcox Park Youtube channel! Use whatever you have in your house to build with, and send us a photo or video of your creation!
THURSDAY — 3-4 p.m., Teen Involvement – Interested in making a change in your community? Join us in a discussion of what's going on in the world and what you can do to help! Email skobos@westerlylibrary.org to register.
SATURDAY — 10:30 a.m.-12:30 p.m., Adult Writer's Workshop via Zoom – Share and discuss your work in this group-led writing workshop. All experience levels and genre interests welcome. Contact Allynn at awilkinson@westerlylibrary.org for Zoom information
Caroline Badowski is the head of reference at the Westerly Library.
The Link Lonk
October 19, 2020 at 07:30AM
https://ift.tt/2FEmPrR
At the Library: The library can take you under the sea - The Westerly Sun
https://ift.tt/2CoSmg4
Sea