sea.indah.link
As a student, Edwards was known as an outspoken liberal, something that very much set him apart from the crowd. He recalls that morning in the introductory passage of his book An Outlier's Tribe: Growing Up between Appalachia and The Liberal Coast (New Degree Press, 2020):
Nov. 9, 2016: As I drive overlooking the rolling Appalachian Mountains dotted with strip mines, I can only imagine what will transpire today in my high school. I try to mentally brace myself for the inevitable, though there's a weird part of me that is genuinely curious to see how my fellow classmates will react to last night's news.
Passing through the halls on my way to class, I can't help but marvel at the sheer absurdity of it all. Copious amounts of Confederate flag attire, the echo of "Trump Train" chants ricocheting off lockers, the flashes of red MAGA hats in the hallways, the click of steel‑toed Carolina boots on the stairs.
Granted, this is nothing new in my deeply conservative town, nestled in the impoverished hills and hollers of Western Maryland. However, this is on a new level—people aren't just happy, they're emboldened.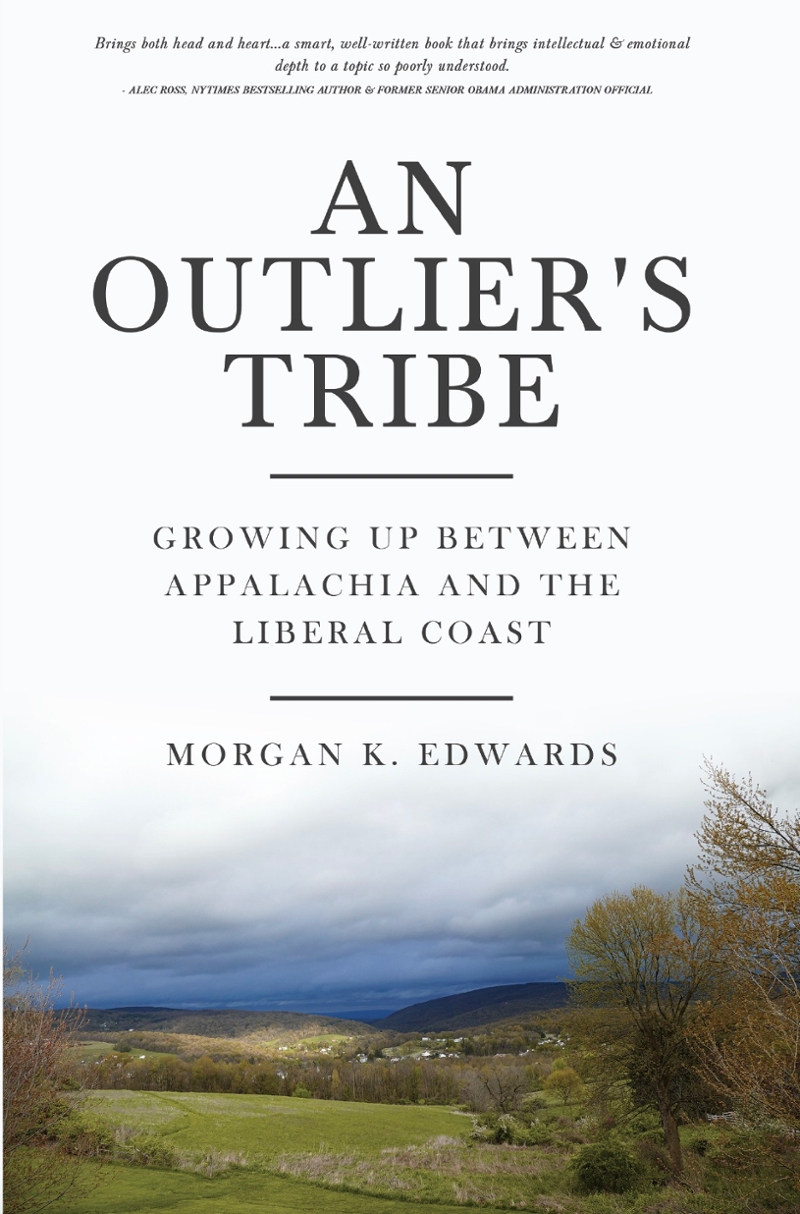 Fours year later, and Edwards has gone from being a junior at high school to being a junior at Bowdoin, where he is majoring in government and history and where he no longer feels like an outlier. He dedicates to the book to his father, a college professor who died in 2017. "I had a great childhood, but during some of the tough times at school, my dad would say to me 'you will find your tribe.' At Bowdoin, I have found my tribe," he says.
Before he came to Bowdoin, however, Edwards says his unique perspective as the token liberal in a sea of red gave him a perfect vantage point to observe certain aspects of America's fractured society, a society, he says, that became more divided than ever during Donald Trump's presidency.
At high school Edwards played on the basketball team and did have friends—some of whom he still keeps in touch with—so it's not as if he was a lonely, bullied social outcast. Nevertheless, he says, there was a seemingly unbridgeable divide between him and his fellow students. "Some of the big things I struggled with were the fundamental differences between myself and many of my peers. I regularly heard things that were unacceptable to me: racism, sexism, 'alternative facts,' climate change denial." To be clear, he says, not everyone at his school was this outspoken, "but for the most part, it was very hard to find common ground."
Nevertheless, Edwards did not want to wash his hands of his past when he left Frostburg for Bowdoin. He is actually grateful for the place he comes from, he says. He's even proud of the area's coal mining heritage, although he thinks the future is in clean energy. "The energy question was the source of many disagreements, as you can imagine." He has empathy for the people he grew up with, says Edwards, and with that comes the tension of wanting them to prosper but being disappointed in the political choices they make. "To me, these choices perpetuate their hardships." As he writes in his book:
The region has the most to gain by embracing progressive populist economics and much to lose by abandoning the public institutions that keep it afloat—things like the Appalachian Regional Commission, the university in my town, a social safety net.
The book, which came out on July 31, 2020, has sold nearly 300 copies and garnered some extremely positive reviews. Author and former senior Obama administration official Alec Ross, who also grew up in Appalachia, described it as a "smart, well-written book that brings intellectual and emotional depth to a topic that is so poorly understood and which has implications in communities in all of America's fifty states."
Edwards says he hopes the book will shine a light on a part of the country not well understood by many Americans. "The place shaped me and made me who I am," he says. "It made me more resilient and more willing to stand up for what I believe in, taught me how to tolerate the views of those with whom I don't agree, and helped me cultivate a go-getter mindset due to the lack of opportunities in my surroundings."
The Link Lonk
November 17, 2020 at 12:26AM
https://ift.tt/3lGfJ5Z
Growing Up Liberal in a Sea of Red - Bowdoin News
https://ift.tt/2CoSmg4
Sea