sea.indah.link
PACIFICA, Calif. - Large waves started slamming the Northern California coast Tuesday morning. A result was a search and rescue conducted by the Coast Guard, after witnesses say an unidentified man was swept out to sea.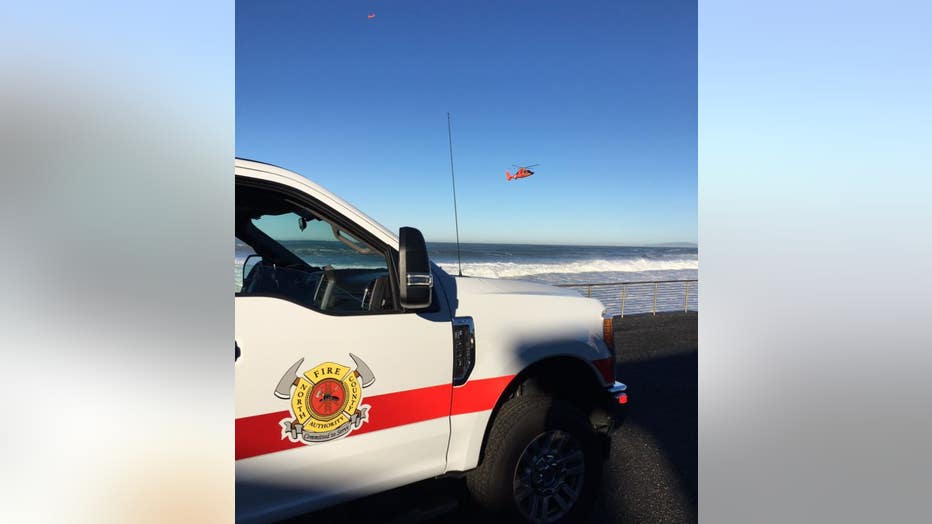 Photo: North County Fire Authority
Officials say the missing man went into the frigid 50-degree Pacific Ocean water around 7:30 a.m. A coast guard helicopter hovered above the area in Pacifica as rescuers conducted an extensive search.
"We had one male subject in the water, struggling to get back to, make it to shore, and was unsuccessful," said Batt. Chief Jeff Huntze of the North San Mateo County Fire Authority.
First responders say the man climbed over the barrier and down onto the rocks. Witnesses say a large wave knocked the unidentified man off of the rocks and into the water. The North San Mateo County Fire Authority estimates wave heights of at least 20-feet.
"The piers been closed here in Pacifica because of the large surf. And so our advisory is to just have people stay afar from the shore," said Huntze.
Three hours later, and more than 100 miles to the north, a water rescue off Point Bonita in the Marin Headlands. With waves dwarfing buoys, officials say two people on a jet ski ran into trouble. A Coast Guard helicopter provided a tow to safety.
"People don't appreciate the power and the magnitude of the danger they're in when they're on the beach or on the rocks in the surf zone," said Capt. Matt Bouchard of the South Marin County Fire District.
The danger is the draw down the coast at a new surf event at Mavericks. Dozens of pro surfers braved 35-foot-high waves for this first time event.
Late Tuesday afternoon in Pacifica, the eagle eye and quick actions of drone operator Josh Hug are credited with saving a woman's life.
The Berkeley professor says he went to the beach to take advantage of the weather, and see the rough surf, when he saw trouble.
"I looked over towards the water line and I had seen a fisherman earlier so I assumed it was him. But then I was like, no wait, that's a woman in the water getting tumbled with her dog. So I tossed my stuff aside and ran over to see what was going on," said Hug.
He was able to go into the water and rescue the woman and her pet.
Monday afternoon there was a water rescue in the area of "The Hook" in Santa Cruz, off 41st Avenue Four suffers were able to rescue one surfer who was found unconscious in the water. He was airlifted to an area hospital and is listed in good condition.
The Link Lonk
December 09, 2020 at 07:53AM
https://ift.tt/39Tg42b
Recovery effort for man swept to sea by Pacifica's 'treacherous' waves - KTVU San Francisco
https://ift.tt/2CoSmg4
Sea